Fortunately, most of us know the answer to this question nowadays. However, if you are not familiar with the ads.txt project yet, take a few minutes to read this article and make the right thing ASAP!
The IAB (Interactive Advertising Bureau: a non-profit International Association devoted to promoting the use of online advertising and maximizing its effectiveness) developed this initiative to offer greater transparency and security to the programmatic buying & selling ecosystem.
How does this file work?
Ads.txt allows Publishers to publicly declare what companies they authorize to sell their online inventory. This is why it is extremely important for media to have this file correctly implemented and up-to-date. If they miss this fundamental step, they might lose the chance to sell their inventory to practically any DSP.
By implementing ads.txt Publishers can control potential sellers of their inventory. At E-planning we work with the largest Publishers in LATAM, which makes us specially critical about the ads quality shown in sites.
In order to maintain a 100% Premium environment, it is necessary to close doors to certain Ad Networks. To this purpose, ads.txt gives us a good way out.
How is ads.txt implemented?
The ads.txt file must publicly state all ad exchanges and SSP that are authorized to sell your inventory.
First of all, you must create a text file (ads.txt) and place it in your domain. For example https://www.example.com/ads.txt
In the file, every authorized seller must be separated and located in a different line.
In each line there must be 3 mandatory and 1 optional fields:
           – Advertising system domain
           – Publisher account id in the SSP
           – Type of account or relationship: Direct (there is a commercial contract between the Publisher and the advertising system in field 2). Reseller (The Publisher authorizes another party to manage the account in field 2 and distribute its online space in field 1)
           – Content Party: The Publisher authorizes it to control the account in field 2 and distribute the advertising space through the system in field 1.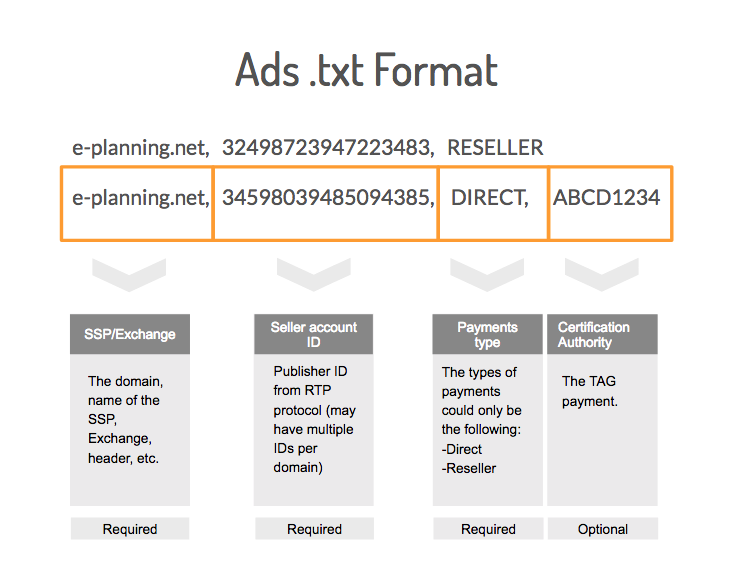 Tips
For Agencies it is crucial the right capital investment of our clients, and for buyers, this ads.txt project also works as it prevents the buying of counterfeit inventory, aiming to avoid invasive mechanisms as Spoofing, a methodology that generated over USD 5M in fraudulent revenue.
To learn more about tech data, take a look at the oficial specs: https://bit.ly/2gy7dXc
At E-planning we welcome and support IAB Tech Lab's project!